Standard Specification
Factory Specifications
The following information is extracted from AC's press release's dated March 1974 and 1979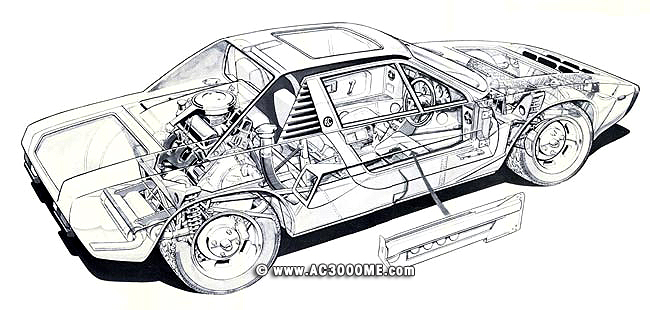 The AC 3000ME is a mid engined, 2 door sports coupe with a 3.0litre V6 engine and 5 speed gearbox located transversely behind the driver/passenger compartment, permitting almost ideal weight distribution and contributing to exceptional road handling and stability at speed.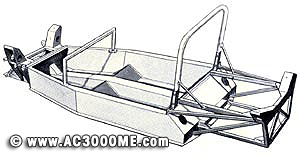 The monocoque perimeter steel chassis with substantial bolt on front and rear sub-frames provide a very stiff structure with considerable protection to passenger and driver. Safety is further enhanced by doors with double internal steel beams, burst proof latches and hinges, a double bulkhead structure, substantial internal roll-over bar, and collapsible steering column.
The chassis is built with longevity in mind. The monocoque interior is sprayed with Volvoline Tectyl, type ML 309 AW, rust protective through special apertures which are plugged. This compound seals welding seams and forms an internal coat on the monocoque chassis hollow sections providing good rust protection.
The chassis is painted externally with an etching chassis paint, as are all-metal tube chassis and suspension fabrications, the finished car is finally undersealed. (If only it had worked)
The AC 4-wheel independent suspension is AC designed with anti-squat and anti-dive geometry. It is entirely purpose built by the company; none of it is obtained from other auto manufactures. Front and rear suspension, up-rights employ SKF second generation hub bearing units, a development of the sealed and lubricated-for-life double row angular contact ball bearing and assembly.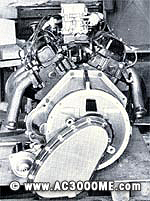 AC Cars were able to manufacture a great deal of the car at their two motor division factories, including monocoque chassis, sub-frames, suspension wishbones and uprights, window frames, body shells, aluminum gearbox case, clutch housing and chain case assembly. Brake calipers are Girling, using discs front and rear manufactured by AC.
The transverse gearbox with 5 forward speeds and reverse is of AC design; assembly and all operations took place in the AC workshops. The drive from the engine to gearbox is by special Renold Triplex chain, via triple tooth sprockets all enclosed in a separate oil case with special chain tensioner.
A stainless steel exhaust system from manifold to tail pipe is standard, as are electric windows, sunshine roof, sun-dym laminated windscreen and windows, radio and electric aerial, Woofrace aluminum wheels with 7" rims, 205/60 VR 14 wet weather radial tyres, Disc brakes all round with dual hydraulic system, steering column adjustable fro rake and length. Through flow fresh air system with adjustable panel eyeballs, and under bulkhead vents, pressure fed by two speed electric fans extractor slots rear body work, twin spot lights, oil cooler, dual smiths thermostatically controlled engine cooling fans,
The car was available in a choice of 16 paint colours, black or beige cloth seats and carpets. Leather seats were available at extra cost.